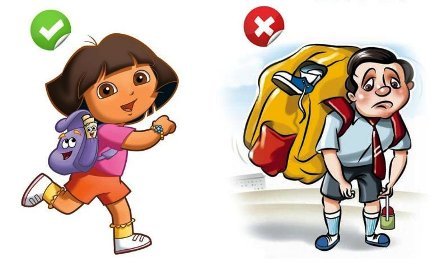 NPCpp - Weight of schoolbags
Presented by: Mr Paul Beddy - Voluntary Board member of The National Parents Council Post Primary.
To the Joint Committee on Children and Youth Affairs
Opening Statement from 'The National Parents Council Post Primary'
Committee members,
The National Parents Council Post Primary (NPCpp) are grateful to the joint Committee for the opportunity to make this opening statement regarding the proposed discussion today on the issue of the weight of schoolbags – a subject which our council receives a disproportionately high number of complaints annually, and a matter which is, and has been, continually highlighted by our council over many years.
We are hopeful, that by engaging in this discussion, all parties with an interest and shared concern will bring about some very necessary changes and agreed recommendations for current and future generations of parents and children.
Parents, The State, School management, Principals, and Teachers all have a shared duty of care to our students' well-being, and all should engage in a process which will bring agreed implementable recommendations forward.
We consider that the more recent generations of our children were required to carry increasing weight levels which far exceeded international 'best practice' levels. The matter is of such a serious nature, that at some point in the future (if that day is not already nearly upon us), the implications for this State could be comparable to the claims for Army deafness disability payments back in the 90's, albeit with the potential to be on a far greater scale.
This may seem by some as alarmist, but things which were described as alarmist in the past, have a habit, with the passage of time, of becoming a reality. An example here is that NPCpp made annual representation from the early 90's that the absence of a 'one child, one seat' policy on school transport was one of the single biggest concerns nationally of parents. Our calls were ignored until the inevitable happened, leading to the tragic deaths of 5 secondary students in county Meath in 2005. Within 3 months of that tragedy the problem was solved. Let us not wait any longer in finding an agreed, implementable solution to the health risks to which the students of this Nation are exposed to by the current need to carry weights in excess of best international practice.
NPCpp – Working towards a better education system for all